Traveling on business and at the same time taking time to get to know the place where you went for work is called business tourism. In this type of trip, tourist or leisure activities alternate with professional, associative, institutional, commercial, technical and social meetings.
Read on and see the evolution of this type of corporate travel over time and the tips to make the trip much more enjoyable! Check out!
How has business tourism evolved over time?
Business tourism is booming due to good results for both parties: employees and companies. With this, the way employees travel on behalf of the company also evolves. Thus, the term "bleisure trips", a union between "business" and "leisure" (leisure), allowed employees traveling on business to form a deep relationship with the destination in order to better enjoy their moments of rest. .
What are the tips to instruct employees in the good use of corporate travel?
First of all, if the trip is for work, this should not be neglected. The following tips show ways to take advantage of corporate travel for tourism, as well as how to optimize work so that you have more time to explore the place or simply relax. Check out!
1. Wake up earlier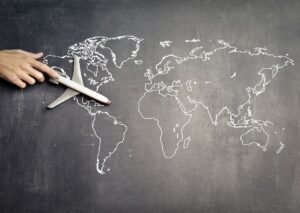 If waking up early isn't a problem for your work performance (like spending the day feeling sleepy) and you still like to exercise, you can walk around town instead of using the hotel's gym.
If possible, visit the parks around where you are staying before returning to your hotel or inn and preparing for work commitments. On this tour you exercise, get to know the city and you can even shop (like things to eat at the hotel or to take home).
2. Discover the city at night
Generally, free time on business trips is in the evening. So take advantage of these moments to enjoy the city's nightlife. Go to events, visit the famous restaurant, in short, have fun, but remember that it's a business trip and overdoing it can cost your income the next day.
So, avoid drinking too much or eating heavy foods that interfere with your night's sleep. However, if this tour takes place on the last night in town and there are no appointments for the next day, enjoy as much as you like!
3. Plan a time for a hobby
When mental health is good, work performance follows suit, so plan a hobby time in your business tourism schedule. If your hobby is exercise, stay at a hotel with a gym or even a heated pool. These moments of fun can be compared to a restful night's sleep. That's because they clear the mind and improve performance at work.
4. Build a script
If your trip is to some stunning place, create an itinerary, separating in your schedule the moments to visit a tourist spot per day, for example. But it is essential to pay attention to the opening hours of the attractions in order to be able to reconcile them with work commitments.
How does the company define the limit for this type of tourism?
Yeah, not everything is flowers, even on a fruitful trip. This is because the company can limit the amount spent during the trip (with which the organization will pay) and still leave determined what will be paid by the employee and what will enter the company's account. An example would be: lunch at the hotel is on behalf of the company, while consumption of what is in the minibar should be the employee's responsibility. In other words, the apportionment of expenses is a reality and is advantageous if used well.
In this article, you have seen the importance and growth of business tourism over the years, as well as the best tips in this regard.