With an air of adventure and often mysterious paths, forests are places that attract photographers, visitors and tourists from all over the world, as they contain the power and beauty of nature, as well as an enormous diversity of fauna and flora, with the most varied types of vegetation and species of animals.
In addition to being important for human survival and also fundamental for maintaining the planet's average temperature, they are now the travel destination of many people, especially adventurers, who seek out curiosities, stories and sports activities in the midst of forests, clearings and century-old trees.
Check out some of the main forests in the world below and plan your next trip to get even closer to the environment!
1. Sinharaja Forest Reserve, Sri Lanka
Sinharaja is one of the most important rainforests in Sri Lanka, which has 88.64 km² and was declared by UNESCO as a biosphere reserve in 1978. It has a huge amount of endemic trees, it is considered home to animals such as mammals. , rare insects, birds and butterflies and there are still other endangered species there.
2. Bwindi Impenetrable Forest, Uganda
The Bwindi Impenetrable Forest is listed as a UNESCO World Heritage Site and has 32,000 hectares, a conservation area that is responsible for housing one of the most incredible endangered species in the world, the mountain gorilla, which lives together with chimpanzees, elephants and antelopes. In addition, there are more than 200 species of trees and also a large number of birds and butterflies.
3. Arashiyama Forest, Japan
How about visiting a bamboo forest located in Kyoto, Japan? This is Arashiyama, which is popular not only for its famous ride on the Sagano Romantic Train, but also for its Togetsukyo bridge, featured in many tourist promotion photos of the region.
With paths over 500 meters long, between Tenryuji Temple and Nonomiya Shrine, the bamboo forest impresses with its beautiful scenery, which gets even more beautiful at sunset. Be sure to walk along its trails and do a romantic program for two!
4. Nube Monteverde Biological Forest Reserve, Costa Rica
This is a tropical forest considered one of the main tourist attractions in Costa Rica, which is located in Monteverde. In addition to having the largest number of orchid species in the world and thousands of other plants, there are also around 30 species of hummingbirds, 500 species of butterflies, 400 species of birds and even more than 100 species of mammals.
5. Baden-Württemberg Forest, Germany
This immense German forest, also known as the Black Forest, is cut by the Rhine Valley and considered the largest natural park in the country, measuring 200 km long and 60 km wide.
There, it is possible to make several trails between its trees and also pass by the beautiful yellow flowers, which bring beauty and life to the dark and enigmatic place, which has already served as the inspiration for famous tales by the Brothers Grimm. If you are passing through the region, the forest is certainly one of the obligatory stops!
6. Daintree Forest, Australia
The Daintree is considered the largest and oldest surviving rainforest in the world, as it covers about 2,600 km² and its existence was determined 135 million years ago.
In addition to incredible landscapes and several waterfalls, there are platypuses, kangaroos and other diverse animals typical of Australia. Its ecosystem is considered one of the most expressive, as it includes a good variety of species of exotic plants and trees.
7. Amazon Rainforest, South America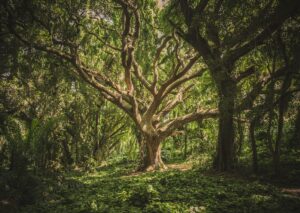 The Amazon Forest is, without a doubt, one of the most famous and important in the entire world, as it has the largest number of plant and animal species in the rest of the planet, in addition to being considered the largest tropical forest, distributed in eight countries in South America, such as Brazil, Colombia, French Guiana, Bolivia, Suriname, Peru, Venezuela and Ecuador.
With a total of 5.5 million square kilometers, the site is home to the most varied types of vegetation and animals and about 20% of the Earth's oxygen content is produced by this forest. Need more?
8. Redwood National Forest, United States
Located in Northern California, the Redwood National Forest is famous for its trees, ranked among the largest in the world and used as the setting for the Star Wars movie "Return of the Jedi".
The forest occupies an area of ​​more than 50 thousand hectares and is mainly home to sequoias, the most typical of the region, which are 115 meters high and 8 meters in diameter. In addition, its paths hide some of the main constructions of the native tribes that inhabited the place.
9. Hallerbos Forest, Belgium
Popularly known as the Blue Forest, the beautiful Hallerbos is located in Belgium and it can be said that its interior is practically a dream, because in certain seasons (more precisely between April and May) its forests are completely covered with hyacinth flowers and resemble an extensive blue carpet.
In addition, the forest that looks more like a true fairy tale, has winding paths and still houses cute animals such as rabbits and collections, which appear from time to time to accompany tourists on their tours.
10. Congo Forest, Africa
Although its ecosystem is becoming increasingly fragile due to deforestation and hunting of animals, almost 70% of Africa's vegetation cover is represented by Congo. The forest is considered an important source for the basic needs of the region's population, such as food, medicine and shelter. In addition, there is the only known habitat for the famous pygmy chimpanzee.
11. Fiordland National Park, New Zealand
A UNESCO World Heritage Site, Fiordland National Park is famous for its impressive waterfalls, beautiful trees amidst mountains and many miles of sandy beach.
What's more, there is a magical atmosphere marked by the locations used in The Lord of the Rings films, as the park has 14 incredible and exciting fjords. Worth knowing!