It is quite common to happen in different parts of the world many very strange and unusual festivals, ranging from bizarre competitions to themes related to music or gastronomy, which show how different and peculiar people and their cultures can be.
With that in mind, we have listed some of the strangest cultural events in the world, which attract local and foreign visitors to have fun and participate in simply unique and unforgettable experiences. Check out!
1. Wife Carrying World Championships, Finland
Have you ever thought about participating in a relay race in which husbands carry the weight of their wives on their laps for a total distance of 254 meters? The winner receives the wife's weight in beer as a prize. It's a nice incentive to participate, isn't it? The sport takes place annually in Sonkajärvi, Finland, on the 18th and 19th of August.
2. Monkey Buffet Festival, Thailand
How about visiting a festival in Thailand where over 600 hungry monkeys are invited to enjoy a buffet with over 2,000 kilos of food such as grilled sausages, ice cream and fresh fruit?
The reason for the event, which takes place on November 25th, is superstitious: legend has it that the monkeys return food with fortune and good luck to the population. In addition, locals consider the festival as a thank you to the monkeys, who are responsible for bringing many tourists every year.
3. Kanamara Matsuri Festival, Japan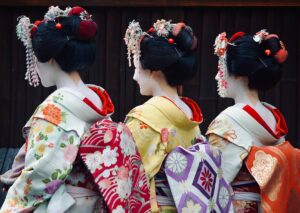 And if you think you've seen it all, you certainly haven't heard of this Japanese festival, which takes place in Kawasaki and consists of different sculptures in the shape of a penis, from sweets to party decorations.
The story goes that this event began in the 17th century, when prostitutes prayed for protection from sexually transmitted diseases. For this reason, they are the vast majority of the festival.
The highlight of the celebration is the parade of a nearly two meter long pink wooden penis to the Kanamara Shrine, followed by men and women carrying dolls, food, hats, products and puppets, all with the same "theme". .
4. Underwater Music Festival, United States
In this strange music festival, which takes place in Florida, groups of people dive into lakes to play underwater musical instruments in a supposed "concert". So visitors also dive in to enjoy four hours of underwater music. The weirdest part about this is that you can't hear anything but hums.
5. Baby Jumping Festival, Spain
This festival is undoubtedly one of the most bizarre. Created to celebrate Corpus Christi and started in 1620, it basically consists of men who dress up in devilish clothes (red and yellow) and jump over a row of babies lying on mattresses in the street, wielding whips and clubs. .
6. Nakizumo Crying Baby Festival, Japan
Speaking of babies, at this festival that takes place in the Komaki district of Japan, they are stopped by sumo wrestlers, who fight each other in order to make a baby cry first. They believe in the Japanese proverb "baby crying grows fast" and therefore crying is known there as a sign of blessing and health.
7. Ivrea Orange Festival, Italy
For those who love a food fight, this Italian festival is a must, as it takes place in a battle of oranges, where nine teams are formed that can throw oranges at each other.
The event takes place on February 18th and participants make a fun role-play of an ancient battle, wearing medieval clothes. During play, teams are fed grains, which help maintain their energy levels.
8. Argurgu Fishing Festival, Nigeria
At this festival held annually in the city of Argungu, Nigeria, fishing for fish is a little different: all participating men must try to catch the biggest fish in the river using only their bare hands. Whoever gets the best catch is considered the winner.
9. Balls of Fuego Festival, San Salvador
Ever since a volcano nearly destroyed Nejapa in San Salvador, residents of the area have annually organized a congregation in the town square for a themed celebration based on throwing fireballs at each other. This is one of those festivals you'll want to miss far away!
10. Near Death Experience Festival, Spain
Nothing fairer than celebrating friends and family who faced death and lived to tell the story, right? This takes place in the city of Las Nieves, in Spain, where a party is held including a parade in which the survivors are placed inside coffins and taken by people around a cemetery and a church, places where various symbolic offerings are offered. .
11. Day Of The Dead Festival, Mexico
With visual similarities that refer to Halloween, this is a festival celebrated annually throughout Mexico, which was created with the focus of bringing different families together in memory of those who have passed away.
12. Cooper's Hill Cheese-Rolling and Wake, England
Imagine a scene where hundreds of people, mostly men, throw themselves down a hill looking for pieces of cheese? In Gloucester, England, this is reality. The first person to reach the slope first wins the prize: the cheese roll.
13. Roswell UFO Festival, United States
After rumors spread in 1947 that a flying saucer crashed on a farm north of Roswell, New Mexico, townspeople gather every year to parade and talk about theories based on alleged aliens visiting the town.
The event, which also includes the five-kilometer Alien Race, a "flying saucer"-style light parade and the CosmiCon film festival, has become so famous that many ufologists now participate to debate their views on the matter.
14. The Testicle Festival, United States
Also known worldwide as Testy Festy, this bizarre festival takes place annually in Montana, United States. There are about 6,500 adults participating who are divided between activities such as: eating bull testicles (competitors have four minutes to swallow as many as possible), participating in a tricycle race with men in underwear, oil wrestling, t-shirt competitions. wet clothes and lots of public nudity. The event takes place between the 1st and 5th of August.
15. Burning Man Festival, Nevada
If your goal is to get to know a place with a good diversity of people at a party completely unlike anything you've ever seen, get to know the Burning Man festival, which takes place in the Nevada desert and receives around 50,000 people to enjoy the summer for eight days of pure chaos. The event runs from August 25th to September 3rd.
16. World Toe Wrestling Championship, England
In this fun event that takes place in Derbyshire, England, two opponents are seated facing each other and both put their feet in an "arena", where they fight until one foot is forced to the side. In short, it is nothing more than an adapted and more bizarre version of the traditional arm wrestling. The competition takes place on the 25th of August.
17. La Tomatina Festival, Spain
Want to get in a huge food fight? Visit the La Tomatina festival in the city of Buñol, Spain, which receives 20,000 visitors on August 29th who throw thousands of tomatoes at each other. There are different explanations as to why the game started, but everything indicates that it started with the 1945 protests.