If you are one of those people who loves to turn on the television and leave channels on animals, nature and wildlife around the world, you will surely fall in love with these destinations that we have listed below, which in addition to being beautiful places with enchanting landscapes, have a Huge variety of animals scattered everywhere.
They are perfect cities for those who can't do without a good adventure and that attract thousands of tourists every year, willing to face new challenges and get to know more closely the natural habitat of these animals, both in sanctuaries and parks, as well as on safaris.
Check it out below and fall in love!
1. Jasper, Canada
In addition to the incredible lakes, hot springs and waterfalls scattered throughout Jasper National Park, there you will also find bears, moose, beavers, cougars, wolves and many other animals roaming freely, as the park is considered the main home for wildlife in the region. . For your safety, you are advised to stay on the marked paths and away from any animals you see.
2. Yellowstone National Park, United States
Famous worldwide due to its fascinating mountain landscape, Yellowstone National Park, in the United States, is also gaining more and more fame with the presence of its rich ecosystem. It is an expansive space as far as the eye can see (about 30,000 square miles) that is home to species of deer, cougars, moose, wolves, bears and other diverse animals.
3. Islands of Komodo and Rinca, Indonesia
The name of these islands that are located in Indonesia is due to the iconic animal of the region, the famous Komodo dragon, which is the largest species of lizard in the world and reaches almost three meters in length weighing up to 70 kg. Those who are not very fond of the animal, which even scares some visitors, can also observe sharks, dolphins and sea turtles.
4. Halls Gap, Australia
Super popular with wildlife-loving tourists, Halls Gap is located next to Grampians National Park, which is home to emus, koalas, kangaroos (which are bouncing around town or grazing on the cricket pitch) and other extremely cute and catchy!
5. Bwindi Impenetrable National Park, Uganda
In the Bwindi Impenetrable National Park, which has about 32,000 hectares, it is possible to find more than 460 species of birds and mammals, with gorillas being the biggest attraction in the region, since a third of the population of these animals is there. The park offers trails through the forest for visitors to get to know these great animals up close.
6. Estes Park, United States
Located near the entrance to Rocky Mountain National Park, Estes Park offers a beautiful landscape of Colorado nature and also provides the opportunity to meet a wide variety of animals and birds, such as squirrels, mule deer, beavers, in addition to about 3,000 moose (which are super friendly and go into mating and breeding season in autumn and spring – at this stage it's best to keep your distance).
7. Pantanal, Brazil
We could not fail to mention the Pantanal, which combines a beautiful mixture of savannas, forests and swamps in more than 75 thousand square kilometers and has an impressive diversity of animals, such as birds (about 700 species of birds), anacondas, maned wolves, caimans (more than 10 million spread across the region), jaguar, capybaras, Brazilian tapir, giant otter, various mammals, fish, reptiles and much more.
8. Cradle Mountain, Australia
This is where you can meet the rarest and most unusual species, especially at Cradle Mountain, which is one of the best places to find them. They are exotic animals such as echidnas, wombats, platypus and even tasmanian devils. It is worth the experience, as the place is famous for its unique and unforgettable ecology.
9. Kruger National Park, Africa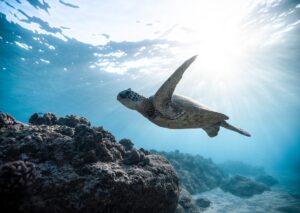 A reference in wildlife, Africa has the Kruger National Park, which is considered one of the best destinations for adventure seekers. The site borders Mozambique and Zimbabwe and mixes savannas, forests and woods that are home to elephants, buffaloes, lions, swallows, among others. In total, there are more than 750 species of mammals, birds and reptiles.
10. Bonito, Brazil
Bonito is another Brazilian and wild destination that lives up to its name, as in addition to being a very beautiful place full of incredible landscapes and crystal clear rivers with many colorful fish, it also has other species of animals such as armadillos, macaws, agoutis and monkeys.
11. Torres del Paine, Chile
Torres del Paine Park is located in Patagonia, Chile, and is a great destination to visit, as in addition to being a place little touched by man, it offers exciting landscapes with snow-capped mountains and also provides the encounter with different species of animals.
12. Ranthambore National Park, India
Ranthambore National Park, located in India, is also home to different wild animals and allows visitors to tour the entire site with a safari and guide, who in addition to helping to find the animals, knows a lot about each of the species. and explains about the tigers, bears, jackals, monkeys and other animals found there.
13. Churchill, Canada
In the city of Churchill, Canada, the great attraction that attracts tourists from all over the world are the polar bears. Despite being very cute from afar, they are extremely dangerous animals up close. During the autumn months, the polar bear capital of the world welcomes large groups of these mammals, which is when the waters begin to thaw so they can enjoy incredible seal feasts.
14. Galapagos, Ecuador
Very famous around the world for being the archipelago that served as the basis for Charles Darwin to develop the theory of evolution of species, Galapagos is a perfect destination to discover the natural habitat of various mammals, birds, fish and reptiles, such as penguins, sea lions, albatrosses, flamingos, turtles and iguanas.
There, it is very common for animals to breed, who consider the place a true safe haven for their nests. Depending on the season, tourists can also admire dolphins, whales and sharks.